Industrial Anodizing Rectifier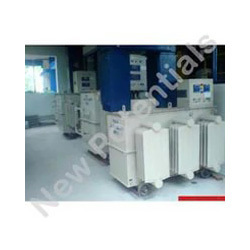 Industrial Anodizing Rectifier
The Anodizing Rectifier is used to increase the thickness of the natural oxide layer on the surface of metal parts. It helps in increasing the wear and corrosion resistance and also improves surface adhesion for paint primers and glue. The Anodizing Rectifier offered by us is made of high grade components that are obtained from trusted suppliers. Further, they are tested by our quality assurance team to ensure they are free from defects.
Specifications:
Input Voltage: 380 - 440 Volts, 3-Phase 50Hz. AC supply
Output Voltage: Fixed Rated maximum DC voltage or variable from zero to maximum rated voltage.
Output Current: Rated maximum DC current
Temperature Rise: Less then 35oC above ambient at the top of the oil.
Efficiency: 12V Rect - 82%, 24V Rect - 90%, 100V Rect - 94%, 200V Rect-96% More than 250V Rect-More than 97%
Ripple Content: Less than 5%
Insulation: 'A' class for oil cooled
WE MAINLY DEAL IN SOUTH INDIA
"We are accepting local inquires mostly from South India."